USKBA LICENSED FIGHTERS AND CHAMPIONS FILL FIGHT CARD IN ATLANTIC CITY
On Friday, January 17, 2003, at the Tropicana Casino and Resort in Atlantic City NJ, five USKBA Licensed Fighters appeared on a fight card that featured eight total fighters. The first bout featured USKBA Full Contact Lightweight International Champion EDELMIRO MONTERO going
against GOCHA PASIESHVILI (USKBA). This five round Full Contact bout went the distance with Montero winning by split decision. The next bout featured USKBA Leg Kicks Middleweight United States Champion TAREK "The Lebanese Tiger" RACHED versus USKBA San Shou Light Heavyweight World Champion PETER "F-16" KALJEVIC in scheduled five round International Rules bout. This bout went the distance with Rached winning by unanimous decision. The next bout was in Mixed Martial Arts, scheduled for three 5 minute rounds, and featured UFC Champion DAN "The Beast" SEVERN battling PAT STANO. When time expired, this bout was declared a draw. Severn may become a USKBA Licensed Fighter if negotiations to have him fight on March 28, 2003 in Massachusetts are completed. In the Main Event, OLANDO "The Warrior" RIVERA and USKBA Full Contact Light Heavyweight International Champion KADIR (see photo below of KADIR graciously signing autographs) squared off in a scheduled 10 round bout. Going the distance, the judges gave this fight to Rivera by split decision.
The arena was filled with USKBA Champions and Licensed Fighters. The talk of the evening was challenges by fighters to USKBA Champions for their titles. In the center of the talk were challenges to one of the most active of USKBA fighters USKBA Full Contact Super Middleweight World Champion TOMMY "Bee" BOTTONE. Other challenges were made by, and to, USKBA Full Contact Light Heavyweight International Champion KADIR, USKBA Full Contact Light Heavyweight World Champion RANDALL "The Perfessor" POGUE, USKBA Leg Kicks Middleweight United States Champion
TAREK "The Lebanese Tiger" RACHED, USKBA San Shou Light Heavyweight World Champion PETER "F-16" KALJEVIC and USKBA Licensed Fighter MELVIN ROBINSON. Also in the arena was Kickboxing Legend DON "The Dragon" WILSON (pictured at right with USKBA Referee Fred Corritone) who fielded a challenge by Olando Rivera. Wilson has a travel schedule filled with appearances at martial art events all over the world. However, he was willing to accept the challenge by Rivera. Both fighters challenged all promoters to step up to the plate and put this match together. Additional talk in the crowd centered around USKBA Full Contact Super Light Heavyweight World Champion LOUIS "Bad Boy" RUIZ by having him fight Olando Rivera and/or Don "The Dragon "Wilson. Full Contact Kickboxing is heating up!

"THE FIGHT AFTER THE FIGHTS!!

By World Kickboxing Champion Tommy "Bee" Bottone (R)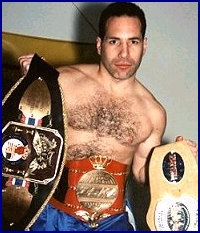 On January 17th, 2003, I was in Atlantic City, New Jersey, USA because one of my fighters Tarek Rached was fighting for a Middleweight title against Peter keljavick. While they had a good fight that my fighter won by decision, I did not know that there would be more action in the lobby much later that night.
I was actually out for the evening with some of Peter keljavick's training partners celebrating a good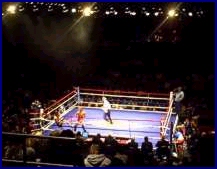 night for kickboxing at the Tropicana Casino Hotel in Atlantic City, New Jersey (Left). When we returned to the hotel lobby late that evening we were talking and saying good night when we heard a women screaming. As we where looking for where the screams came from, no sooner than I could turn around and my friend and heavyweight kickboxer Fred "Iceman" Inozi was running around the corner to help out. By the time that I turned the corner Fred was already helping the girl and fighting with 5 young drunk guys in the hall. He was doing very good by himself but I of course helped him out. We used our experience as fighters to contend them enough that they started to run. Fred's 2 students then came and also helped to get them to run away.
Apparently these drunk guys would not take no for an answer and they where trying to get the young women to go to there room with them. I am happy the woman was not hurt and that we where able to help her when it was needed. Actually no one was hurt that badly and I think that this is due to our martial arts experience that we did just enough to stop there aggression which is what the law allows.
I have learned a lot in my many year in martial arts and the most important thing I have learned is to keep my cool when it counts. If these same guys would have ran into me before my martial arts training I actually would have not kept my cool and more than likely would be in Jail for my actions. I do not think that these drunk guys where aware of how serious there actions where and many young people can learn from there mistakes. I do not think that if they where sober they would have even thought of taken such actions. My point being that we all learned something from this situation. Lets hope that none of us are ever in this situation again.
To contact Mr. Bottone, Click his e-mail link here: tommybeeatafc@yahoo.com