Main Event : Lennox Chance Wins decission against Bobby Campbel for the WKA North American Kickboxing title !
Lennox and Bobby have fought 4 times now once as amateurs and 3 times as pros with Lennox getting the win in 3 of the fights . Bobby Campbell won there last match so Lennox was determined to change his game plan and worked very hard to adjust his style in training .He had a plan to gain control with his kicks early ,having patience landing some good body shots in every round and landing better combinations as the fight went on for 8 rds.
Bobby Campbell fought hard every round winning the 1 st rd on every card throwing some good spinning kicks as well as using some good boxing skills from the lefty stance.
It was apparent that Lennox was determined to stick to his game plan and was landing more strong combinations every round.
In the end Lennox wins a decission and the crowd wins by KO as both fighters diplayed awesome kickboxing skills .
Tarek Rached Beats Mongolian Fighter by decission: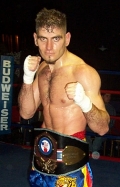 Tarek Rached fougth 5rds against A very good Mongolian fighter Davii Octenbyer.
This fight showcased 2 great fighters from other parts of the world which came to the US to make a name as pros.
Tarek Rached formely of Lebanon has been in the US training with Tommy "BEE" Bottone for more than 4 years now and was a a former WKA,WPKA,WAKO World Champion. Since coming to the US Tarek has proven himself to be a great Pro winning a USKBA Low kick title,WKA full contact title and also winning in K-1 style rules and Pro Boxing as well. Tarek is expected to challenge for a Pro World title this year.
Tarek was fighting a former Champion from the same circuit of tournamanets in Europe WKA,WAKO,WPKA also having a strong boxing backround as well.
These fighters started fast exchanging hard punches early With Tarek getting dropped in the early rounds with a good right hand ,coming back using his superior kickboxing skills after rd 2 to take control and winning a decission .
There is talk that these 2 fighters will meet again on August 18 th in NYC at the Ultimate Kickboxing Challenge
www.ringoffirekickboxing.com
John Gilliam wins WKA NA amateur Title fight !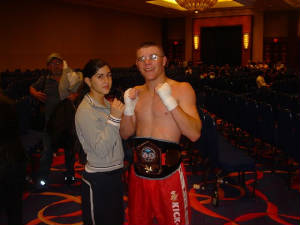 John Gilliam in Photo with Mina Sarihasan
John Gilliam fought for the WKA NA kickboxing title against Vinny Deangello for 3 good rds. John has been traning in Kicboxing for over 10 year with Tommy "BEE" Bottone and has been making waves in the sport over the last couple of years.
John had a tough opponent in Vinny Deangello , Vinny came to fight and had strong punching and kicking skills. John was the clear agressor in every round landing strong body shots combined with good combinations while Vinny was on the ropes . Vinny surprised many in the crowd when landing some good body kicks off of the ropes.
John Gilliam demonstrated his versatitlity by not only being the agressor but still was able to mix his punches with some awesome spinning kicks to the head and body.
Both of these fighters are still teenagers John 19 - Vinny 17 and show what great fights are to come in the future of the sport of kickboxing .
There is talk already of a rematch for these young fighters.