NY Fighters try out for The Contender Tv show
Tommy "BEE" Bottone Story " Street fighter turned World Kickboxing Champion"
New York Newsday November 14 2003 :
Jackie Chan, Where Are You?

This isn't a movie. Some real fighters will be throwing eight kicks each round along with their punches. Most of the fighters, such as Mike Corleone, who faces World Champ Tommy B. Bottone, are local, and there are a lot of fights - four professional, 15 amateur. The action is tonight at 7 at Sports Plus in Lake Grove. Tickets are $38-$55, call 631-360-8830.


KICKBOXERS RESCUE WOMAN IN ATLANTIC CITY!!
"A bit of San Shou History"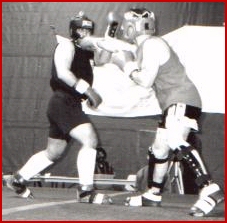 Can you identify the two fighters in this picture? OK, it isn't the best picture in the world and really you'd have to be a historian of San Shou in the United States to take even an educated guess so I guess we have to tell you. The fighter on the left, blocking, is Josh Bartholomew of Boston San Shou. Josh was one to top amateur San Shou fighters in the country and a member of the US National San Shou team. Currently, he is the trainer of many of the country's top amateur and professional San Shou fighters. The fighter on the right, throwing the jab, is USKBA Full Contact World Champion Tommy "Bee" Bottone. Tommy is known today for his Full Contact fights but he came up in the Chinese fighting arts. Tommy held titles in both Kuoshu Lei Tai fighting and San Shou.
Josh Bartholomew and Tommy "Bee" Bottone fought in 1995 at the New York San Shou Championships. The event, promoted by Steve Ventura and David A Ross, was organized as part of the publicity campaign for the 3rd World San Shou Championships, which was held in Baltimore, MD that year. It was also the very first time in history that a San Shou event was run as a carded event with pre-set matches. At the time, the idea was scoffed at. Of course, today carded events are not only a regular part of San Shou, they are the "big draws" in the sport. The 1995 New York San Shou Championships are an important part of


San Shou's history and both Josh Bartholomew and Tommy "Bee" Bottone (Left) were part of this historic event.
Currently, negotiations are under way for Tommy "Bee" Bottone to return to San Shou. He will return to face another legend and pioneer of the sport, Josh's own trainer Jason Yee (Right) and quite possibly for the vacant IKF Pro San Shou Super Middleweight Title. The under card figures to have a number of high profile San Shou matches as well.
TOMMY "BEE" BOTTONE VICTORIOUS IN SAN SHOU ON "LONG ISLAND KICKBOXING CHALLENGE"
World Kickboxing Champion TOMMY "Bee" BOTTONE went back to the sport that saw him compete years ago. In a non-title scheduled five round San Shou bout, Bottone squared off against NATEEN ISMAIL. Ismail has appeared on many area events in Full Contact Kickboxing and Leg Kick bouts. Ismail felt his past experience would be helpful in branching out to
San Shou. Perhaps Ismail bit off more than he could chew by going into the ring with Bottone. As the opening bell sounded, Ismail stood toe to toe with Bottone. But Bottone was all offense and Ismail played defense. Bottone was able to connect with low kicks that seemed to slow Ismail down. Then Bottone connected with a head shot that sent Ismail to one knee. Referee Pat Sullivan ushered Bottone to a neutral corner and proceeded to begin the count on Ismail. It was visible that Ismail's left eye was closed. Ismail remained on one knee while the referee counted to ten. The fight was over and Bottone was given the KO at :55 of the first round.
The Main Event of the "LONG ISLAND KICKBOXING CHALLENGE" went fast and smooth as did the previous bouts on this event. The undercard featured many title holders in non-title bouts showcasing Full Contact Kickboxing, Leg Kick Kickboxing, K-1 (TM) Style Kickboxing and Free Style Wrestling.
In a Free Style Wrestling bout, LENNOX CHANCE and KYLE MURRAY faced off against each other in a match scheduled for 3 two minute rounds. The beginning of the match had both wrestlers going for control of the match. The fight went to the canvas with Chance attempting a hold on Murray. Murray turned the tide and had Chance in control as the two fighters went to the ropes. Referee Pat Sullivan brought the fighters away from the ropes. Murray put a headlock on Chance that had Chance trying his best to keep his shoulders off the canvas. Murray applied additional pressure and managed to pin Chance. Murray was given the victory by way of pin at 1:41 of the first round.
In a Full Contact Kickboxing bout, STEVE VENTIMIGLIA and JOSH BEAUREGARD met in a scheduled three round contest. The opening bell sounded and the action began. The action
remained throughout the entire fight. Beauregard landed clean kicks and punches. Ventimiglia tried to brawl his way to winning the round. Beauregard put the pressure on Ventimiglia. All three judges gave the round to Beauregard. The second round ended in a similar fashion. Two judges gave the round to Beauregard, while one judge gave the round to Ventimiglia. The third round saw Beauregard continuing his display of kicks and punches while Ventimiglia seemed to go all out to take him out. Ventimiglia picked up Beauregard and threw him to the canvas. In San Shou it would have been a good throw. In Full Contact Kickboxing, it's a no-no and it had Referee Pat Sullivan issuing a point deduction for Ventimiglia. In addition to the point deduction, Ventimiglia was issued a standing eight count courtesy of Beauregard's relentless attack. The fight went the distance with Beauregard winning a unanimous decision.
In another Full Contact Kickboxing bout, JENNIFER SWEENEY and CHRISTINE CAPOZZOLA met in a scheduled three round contest. Sweeney looked sharp as she was able to connect with kicks to the body and head of Capozzola. Capozzola fought back valiantly but seemed to fall a little short of taking control. This happened through all three rounds with both fighters thoroughly exhausted for the third round. Capozzola mustered all she could to take the fight to Sweeney. Sweeney dug deep and fought a smart final round. When the final bell rang, it was clear that both fighters gave their all. The unanimous decision went to Sweeney.
In other action
Full Contact Kickboxing
MIKE QUINONES def RON MURRAY by TKO at :28 of Round 2.
Leg Kick Kickboxing
CHRISSY YANDOLLI and BRIANA FARRO fought an exhibition.
Full Contact Kickboxing
JENNIFER LUISI def SUZANNE JARVIS by unanimous decision.
Full Contact Kickboxing
DORIAN MURRAY def DANIELLE DONOVAN by TKO at 1:07 of Round 3.
K-1 (TM) Style Kickboxing
ERIC ROBERTSON and CONNOR McGORRY fought an exhibition.
Full Contact Kickboxing
JOHN BOTTONE JR. and JOHN WILLIAMS fought an exhibition.
For information on future Ring of Fire Production events, Call 631-345-0100 or visit their website at www.ringoffirekickboxing.com.
CUNG LE EVENT IN SAN JOSE CALIFORNIA
Radio Martial arts interview with Tommy "BEE"
8 year old Kickboxer "Conner Mcgorry Story "
Ring Of Fire 9 Results and Story !!