"THE FIGHT AFTER THE FIGHTS!!

By World Kickboxing Champion Tommy "Bee" Bottone (R)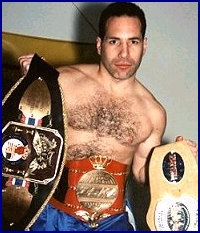 On January 17th, 2003, I was in Atlantic City, New Jersey, USA because one of my fighters Tarek Rached was fighting for a Middleweight title against Peter keljavick. While they had a good fight that my fighter won by decision, I did not know that there would be more action in the lobby much later that night.
I was actually out for the evening with some of Peter keljavick's training partners celebrating a good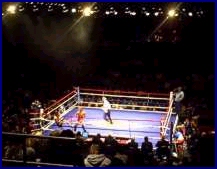 night for kickboxing at the Tropicana Casino Hotel in Atlantic City, New Jersey (Left). When we returned to the hotel lobby late that evening we were talking and saying good night when we heard a women screaming. As we where looking for where the screams came from, no sooner than I could turn around and my friend and heavyweight kickboxer Fred "Iceman" Inozi was running around the corner to help out. By the time that I turned the corner Fred was already helping the girl and fighting with 5 young drunk guys in the hall. He was doing very good by himself but I of course helped him out. We used our experience as fighters to contend them enough that they started to run. Fred's 2 students then came and also helped to get them to run away.
Apparently these drunk guys would not take no for an answer and they where trying to get the young women to go to there room with them. I am happy the woman was not hurt and that we where able to help her when it was needed. Actually no one was hurt that badly and I think that this is due to our martial arts experience that we did just enough to stop there aggression which is what the law allows.
I have learned a lot in my many year in martial arts and the most important thing I have learned is to keep my cool when it counts. If these same guys would have ran into me before my martial arts training I actually would have not kept my cool and more than likely would be in Jail for my actions. I do not think that these drunk guys where aware of how serious there actions where and many young people can learn from there mistakes. I do not think that if they where sober they would have even thought of taken such actions. My point being that we all learned something from this situation. Lets hope that none of us are ever in this situation again.
To contact Mr. Bottone, Click his e-mail link here: tommybeeatafc@yahoo.com