BEE TV Watch instructional Videos , Figtt Videos and ringside talks with Former World Kickboxing champion / Team USA Coach Tommy BEE Bottone
Watch Latest MMA Fight Videos Here ;
World Champ Angelo Dibella , Canada wins by KO in 2 nd round
")
Julio Germain Wins MMA Fight by TKO in 1 st Round
Anna Bogomazova "Russian" Wako World Champion
Tommy "BEE" Bottone Pro Sanhou fight " Suplex Throw "
Bottone vs Buchannon 12 rounds for Low Kick World Title 4th round omoted by WCK
Boldest Boxing SCSO VS NYC Charity Boxing Main event.
TOMMY "BEE" BOTTONE Wins by 1 st round KO
TOMMY "BEE VS Melvin Robinson Titile defense last Round
TOMMY "BEE" BOTTONE VS JOHN KENNY World title fight
TOMMY "BEE" BOTTONE Wins by 1 st round TKO
TOMMY "BEE" BOTTONE K-1 style fighting
TOMMY "BEE" BOTTONE Wins K-1 style tourney by Low kick KO
Lennox Chance vs Nick Pace - Ring Of Combat Pro MMA
Lennox Chance vs. Rami Ibrahim
Source: sherdog.com

Lennox Chance Wins by Rear Naked Choke in round#1
The world leader in UFC, PRIDE, and all things Mixed Martial Arts (aka MMA and Ultimate Fighting). News, videos, pictures, and much, much more.
Tarek Rached beats Ryan Madigan for K-1 style World title Tarek Rached Wins Top Kick World title by 3 rd Round TKO
Chrissy Yandolli Wins PKF K-1 Style Title Fight
Kieth Youngs vs Kieth Nesbitt - Sports Plus Lake Grove, NY
John Gilliam wins by head Kick KO
Mina Sarihasan vs Andrea Deangello Teen Female title fight
Mina Sarihasan 16 years old fight at Sports /Plus NY
Heavyweight fight on Ring Of Fire promotions
Ring Of Fire promotions 6
" King Ken " Hewski Wins by Jump Spinning Kick !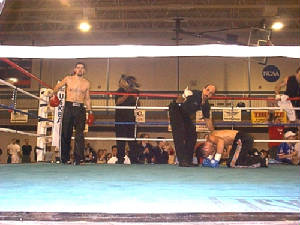 "King Ken"Hewski Fight Video clip
Students Training at AFC Kickboxing
TOMMY "BEE" In Training for UKC Tournament !
Tommy "BEE" Hitting bags getting ready for fight
TOMMY "BEE" BOTTONE MYSPACE -Fight Videos -Photos
Bukuao Boy Fights Sanda Rules in China
"Legend" Rob Kamans Highligh Vdieo
"Old School" Rick Roufas vs Rob Kaman Fight
Watch Videos from Ring Of Fire Kickboxing
Muay-Thai Demo - "Legends- Matee vs Sakesan"
John " Wayne " Parr - Austraulia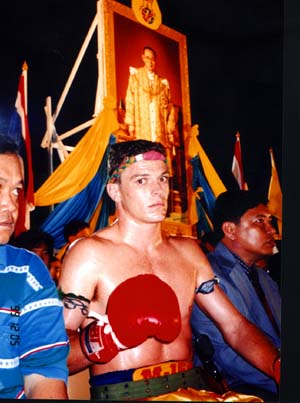 John Wyane Parr, Australia Great Muay-Thai Champ
It was a great fight for me as I didn't get hurt and got to practice a few new moves, I also had a huge crew com and support me and was cool to win by KO in front of them.
13 Year old female Thai-Boxer Christi from England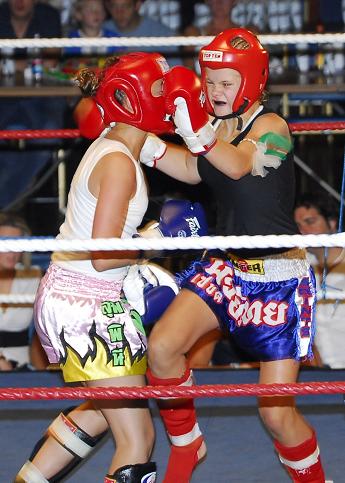 Christi Campbel 13 year old Thai-Boxing Star-England
Stan "The Man " Longanitis Highlights !
Don "The Dragon "Wilson VS Branko Cikatik
Don "The Dragon" Wilson VS Ed Butcher NJ -USA
Ramon Deckers(Muay-thai Legend)VS Thai fighter
Rick Roufas VS Carter Williams K-1 Vegas
Maurice Smith fighting Satake in K1 Japan
Yohel Judah Kickboxing Ko from the Past
Cung Le VS Shonie Carter -San Jose California
World Combat League Video clips !
Vladamir Klitchko Kickboxing fight / Funny !