Worldwide opinions on Bottone VS Schwartz
Article on Tommy 'BEE" Seminar in Rochester ,Ny
NY Fighters try out for The Contender Tv show
Tommy "BEE" Bottone Story " Street fighter turned World Kickboxing Champion"
New York Newsday November 14 2003 :
Jackie Chan, Where Are You?

This isn't a movie. Some real fighters will be throwing eight kicks each round along with their punches. Most of the fighters, such as Mike Corleone, who faces World Champ Tommy B. Bottone, are local, and there are a lot of fights - four professional, 15 amateur. The action is tonight at 7 at Sports Plus in Lake Grove. Tickets are $38-$55, call 631-360-8830.


KICKBOXERS RESCUE WOMAN IN ATLANTIC CITY!!
"A bit of San Shou History"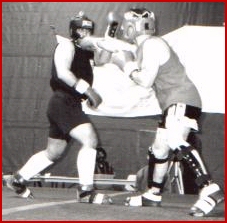 Can you identify the two fighters in this picture? OK, it isn't the best picture in the world and really you'd have to be a historian of San Shou in the United States to take even an educated guess so I guess we have to tell you. The fighter on the left, blocking, is Josh Bartholomew of Boston San Shou. Josh was one to top amateur San Shou fighters in the country and a member of the US National San Shou team. Currently, he is the trainer of many of the country's top amateur and professional San Shou fighters. The fighter on the right, throwing the jab, is USKBA Full Contact World Champion Tommy "Bee" Bottone. Tommy is known today for his Full Contact fights but he came up in the Chinese fighting arts. Tommy held titles in both Kuoshu Lei Tai fighting and San Shou.
Josh Bartholomew and Tommy "Bee" Bottone fought in 1995 at the New York San Shou Championships. The event, promoted by Steve Ventura and David A Ross, was organized as part of the publicity campaign for the 3rd World San Shou Championships, which was held in Baltimore, MD that year. It was also the very first time in history that a San Shou event was run as a carded event with pre-set matches. At the time, the idea was scoffed at. Of course, today carded events are not only a regular part of San Shou, they are the "big draws" in the sport. The 1995 New York San Shou Championships are an important part of


San Shou's history and both Josh Bartholomew and Tommy "Bee" Bottone (Left) were part of this historic event.
Currently, negotiations are under way for Tommy "Bee" Bottone to return to San Shou. He will return to face another legend and pioneer of the sport, Josh's own trainer Jason Yee (Right) and quite possibly for the vacant IKF Pro San Shou Super Middleweight Title. The under card figures to have a number of high profile San Shou matches as well.
TOMMY "BEE" BOTTONE VICTORIOUS IN SAN SHOU ON "LONG ISLAND KICKBOXING CHALLENGE"
World Kickboxing Champion TOMMY "Bee" BOTTONE went back to the sport that saw him compete years ago. In a non-title scheduled five round San Shou bout, Bottone squared off against NATEEN ISMAIL. Ismail has appeared on many area events in Full Contact Kickboxing and Leg Kick bouts. Ismail felt his past experience would be helpful in branching out to
San Shou. Perhaps Ismail bit off more than he could chew by going into the ring with Bottone. As the opening bell sounded, Ismail stood toe to toe with Bottone. But Bottone was all offense and Ismail played defense. Bottone was able to connect with low kicks that seemed to slow Ismail down. Then Bottone connected with a head shot that sent Ismail to one knee. Referee Pat Sullivan ushered Bottone to a neutral corner and proceeded to begin the count on Ismail. It was visible that Ismail's left eye was closed. Ismail remained on one knee while the referee counted to ten. The fight was over and Bottone was given the KO at :55 of the first round.
The Main Event of the "LONG ISLAND KICKBOXING CHALLENGE" went fast and smooth as did the previous bouts on this event. The undercard featured many title holders in non-title bouts showcasing Full Contact Kickboxing, Leg Kick Kickboxing, K-1 (TM) Style Kickboxing and Free Style Wrestling.
In a Free Style Wrestling bout, LENNOX CHANCE and KYLE MURRAY faced off against each other in a match scheduled for 3 two minute rounds. The beginning of the match had both wrestlers going for control of the match. The fight went to the canvas with Chance attempting a hold on Murray. Murray turned the tide and had Chance in control as the two fighters went to the ropes. Referee Pat Sullivan brought the fighters away from the ropes. Murray put a headlock on Chance that had Chance trying his best to keep his shoulders off the canvas. Murray applied additional pressure and managed to pin Chance. Murray was given the victory by way of pin at 1:41 of the first round.
In a Full Contact Kickboxing bout, STEVE VENTIMIGLIA and JOSH BEAUREGARD met in a scheduled three round contest. The opening bell sounded and the action began. The action
remained throughout the entire fight. Beauregard landed clean kicks and punches. Ventimiglia tried to brawl his way to winning the round. Beauregard put the pressure on Ventimiglia. All three judges gave the round to Beauregard. The second round ended in a similar fashion. Two judges gave the round to Beauregard, while one judge gave the round to Ventimiglia. The third round saw Beauregard continuing his display of kicks and punches while Ventimiglia seemed to go all out to take him out. Ventimiglia picked up Beauregard and threw him to the canvas. In San Shou it would have been a good throw. In Full Contact Kickboxing, it's a no-no and it had Referee Pat Sullivan issuing a point deduction for Ventimiglia. In addition to the point deduction, Ventimiglia was issued a standing eight count courtesy of Beauregard's relentless attack. The fight went the distance with Beauregard winning a unanimous decision.
In another Full Contact Kickboxing bout, JENNIFER SWEENEY and CHRISTINE CAPOZZOLA met in a scheduled three round contest. Sweeney looked sharp as she was able to connect with kicks to the body and head of Capozzola. Capozzola fought back valiantly but seemed to fall a little short of taking control. This happened through all three rounds with both fighters thoroughly exhausted for the third round. Capozzola mustered all she could to take the fight to Sweeney. Sweeney dug deep and fought a smart final round. When the final bell rang, it was clear that both fighters gave their all. The unanimous decision went to Sweeney.
In other action
Full Contact Kickboxing
MIKE QUINONES def RON MURRAY by TKO at :28 of Round 2.
Leg Kick Kickboxing
CHRISSY YANDOLLI and BRIANA FARRO fought an exhibition.
Full Contact Kickboxing
JENNIFER LUISI def SUZANNE JARVIS by unanimous decision.
Full Contact Kickboxing
DORIAN MURRAY def DANIELLE DONOVAN by TKO at 1:07 of Round 3.
K-1 (TM) Style Kickboxing
ERIC ROBERTSON and CONNOR McGORRY fought an exhibition.
Full Contact Kickboxing
JOHN BOTTONE JR. and JOHN WILLIAMS fought an exhibition.
For information on future Ring of Fire Production events, Call 631-345-0100 or visit their website at www.ringoffirekickboxing.com.
**USKBA ACTION SPORTS News of... ...TUESDAY, MARCH 30, 2004 **
---
LEARN ABOUT OUR KICKBOXING TOURNAMENT COORDINATOR
On September 4-5, 2004 our "2004 USKBA ACTION SPORTS WORLD CHAMPIONSHIPS" will take place at RexPlex Sports Complex in New Jersey USA. We will be running amateur tournaments in 5 different action sports; Full Contact Kickboxing, San Da, Thaiboxing, Freestyle Sambo and Continuous Contact. Each tournament has it's own coordinator (promoter). Now we'll tell you a little about our "2004 FULL CONTACT KICKBOXING AND CONTINUOUS CONTACT WORLD CHALLENGE" Coordinator Tommy Bottone.
Tommy Bottone is the current holder of six world kickboxing middleweight championship titles including the USKBA Full Contact Kickboxing Super Middleweight World Championship Title. As a promoter, Tommy, with his brother John, created the popular New York "RING OF FIRE" fighting events in 1998. He had found out that his childhood friend, Cindy Quinn, had been murdered and decided to dedicate the first RING OF FIRE event to Cindy's memory and to give the money they raised to her family.
Prior to his formal training, Tommy was fighting on the streets and remembers his introduction to the martial arts. "As I was putting gas in my car I looked across the street and I see this little guy beating up all these big guys through the window of this karate school" said Tommy. "I went over to the school and watched for a while, and when there was a break I went up to the little guy and told him that I wanted to come and fight in his school" he continued. The little guy was kung fu master Sifu Moses Arocho, who then began formally training Tommy. One of Tommys dreams became a reality when he was asked to appeared with Chuck Norris on the now famous "Legends" episode of "Walker, Texas Ranger". Tommy currently teaches at his AFC Kickboxing school in Long Island NY and has trained numerous champions including world championship title holders. Remembering that the martial arts saved his life, Tommy realizes that he has come a long way since his street fighting days in New York. He now hopes to save other lives by teaching what he has learned
CUNG LE EVENT IN SAN JOSE CALIFORNIA
Radio Martial arts interview with Tommy "BEE"
8 year old Kickboxer "Conner Mcgorry Story "
Ring Of Fire 9 Results and Story !!
MIXED MARTIAL ARTS NEWS FOR THE FREE FIGHTING AFICIONADO
STOR</font><font color="#000080">E

Sandy Holt Muay Thai Seminar in Middle Island, New York by Wendell R. Mangibin / April 12, 2005

On Sunday April 10, 2005, double British and European Thai boxing champion Sandy Holt made a trip across the pond to give a seminar on Muay Thai in Middle Island, New York.

The seminar took place in American Fighting Concepts (AFC) Kickboxing and was hosted by World Kickboxing Champion Tommy 'Bee' Bottone, owner and head-instructor of AFC. Students of all styles, levels and ages attended-- most of which were Long Island martial artists looking to include Muay Thai in their training. They came to the right place: Sandy Holt, founder and president of the UK Muay Thai Association (UKMTA), is a fifth degree Red and Silver (Kruang-Lruang) which is the equivalent of fifth dan-- the highest grade a Thai Boxer can achieve before becoming a Gold which is the mark of the Master. Known in several circles as 'McMadman,' Holt greeted each student with a handshake and a warm smile.

The seminar started with a brief history and introduction to Muay Thai. Holt shared his experience of Muay Thai in both Thailand and Europe, the effectiveness of having 'eight weapons' in your arsenal, and the infinite number of combinations you have at your disposal. He proceeded to do warm-up exercises, which was a chance to show the class his impressive one-thumb press-ups (that's push-ups to us Americans). Holt demonstrated how simple bodyweight exercises were equally effective, if not more effective, than weightlifting.

Then it was on to training, which consisted of various rudimentary techniques including: stance, clinching, knee and leg attacks, elbows, punches, and blocking as well as ring strategy. Students learned how to execute each move as well as how to properly hold a Thai pad, which Holt emphasized was similarly important. Everyone received abundant attention from Holt, giving corrections when needed. His explanations were detailed, clear and funny. Throughout the seminar, Holt had a way of displaying a lightening fast deadly attack, but always followed up with a hilarious joke. It was obvious that the class enjoyed themselves.

After a short cool down session, Holt spoke candidly about his background, being bullied as a small child in England, how he found Muay Thai and the importance of martial arts with regard to self-confidence. He also commented on his journeys to Thailand and other parts of the world, his teacher Master Sken and his bit part in an upcoming Jackie Chan film. In closing, he paid special thanks to Tommy 'Bee' Bottone for offering up his school, his students and his time. It was a rare opportunity for everyone to work with two champions.

For more information on Sandy Holt visit www.thaiboxing.co.uk.

About Tommy 'Bee' Bottone and AFC Kickboxing: Tommy 'Bee' Bottone himself has taught many mixed martial arts/self defense seminars. He has been inducted in the PKF Hall of fame for Full Contact Instructor of the Year in 2002, Fighter of the Year in 2003. He was also ranked #1 by Inside Kung Fu Magazine in 1994 as an amateur Sanhou Champion before turning pro in 1995. He then went on to win many world titles as a professional kickboxer. His school, located in Middle Island, New York, specializes in kickboxing, boxing, grappling and sanshou. It has been a host to kickboxing legend Don 'The Dragon' Wilson and UFC champion Oleg 'The Russian Bear' Taktarov, both friends of Bottone.

If you would like more information on classes and directions to AFC Kickboxing, contact Tommy Bottone at 631-345-0100 or go to the website at www.ringoffirekickboxing.com.

** The above photographs are the property of Tommy 'Bee' Bottone/AFC Kickboxing and are being used with his permission. These photos are not for commercial use nor are they to be used on any other website.
Article written about TOMMY "BEE" BOTTONE seminar in Rochester ,NY:
Written By Don Burns:

An abundance of information--this is the only way I can adequately sum up World Kickboxing Champion Tommy "Bee" Bottone's seminar at Mountain Storm, in Charlotte, N.Y., on July 14, 2001.
Having a martial arts background, I have attended, participated, and held many martial arts and self-defense seminars. Tommy's was different. While other seminars focus on self-defense, kickboxing, or ground fighting, Tommy's incorporated all three. At first, the thought of a four-hour seminar seemed daunting, but Tommy's charisma, obvious experience, and especially his love for this art kept me wanting more (as any good public speaker can do).
What impressed me most was Tommy's preparation. Although he prepared for the seminar, Tommy took the time to watch the fighters at Mountain Storm so he could tailor his lesson to their specific needs. So, while he displayed proper technique and angles, Tommy also brought to light the strengths and weaknesses of the individual fighters in an effort to help them adjust their own styles.
As for the grappling segment of the seminar, to say I was impressed would be an understatement. Tommy performed each escape, take down, and submission hold without flaw, taking time to show the counter for the respective move. Each of Tommy's movements was performed effortlessly and fluidly, clearly revealing his mastery of the art.
Tommy's visit to Mountain Storm was action filled. He didn't pause once or reflectively stop to think of what would come next. In fact, Tommy continually stated, "You want more? I always have more!"
TOMMY "BEE" BOTTONE is chosen for Kickboxing Reality show The Diamond belt Championship !
This show will be filmed in Moscow,Russia in January 2006.
CURRENT NEWS
Ring Name: TOMMY "BEE" BOTTONE
Real Name: Tommy Bottone
List the tournaments and championships you have won last year:
My last Tournament which I won was the Ulitmate kickboxing Challenge _September 11th 2004 held in Pathcogue ,NY. This was a 4 man winner take all event with rules similar to the K-1.
When and where you defend your World Champion title the last time? (Note also the type you won – by points / by KO):
My last USKBA Full contact World title defense was September 21st 2001 beating Tony "TNT" Ventura in NYC at the WWF Center in Times Square which I won the title from in 1997 winning both fights by decision. Tony Ventura earned the right to fight for the title by knocking out a great fighter in rd 1 which I also beat 2 times John Kenny in Atlantic City Nj at the Tropicana Casino Hotel. My fights with Tony where great fights as well as my fights with John Kenny which earned his right to a title fight with me by Knocking out a fighter Mike Sexton which beat me early in my pro career before I had the title in a elimination fight for a shot for my title.
What is your soap-box (the mighty of your kicks' arsenal such as hands / legs speed, KO kicks, tactics etc.)?
I believe that my best asset is my versatility as I have had different points in my career in which I was known in Full contact rules for my 1 punch ko power, my kicking ability ,my spinning back fist or strong left hook as well as strong low kicks in K-1 style ,low kick ,and sanshou fights._
I think my best technique is my right hand as it has served me well for many ko,s in my career.
What is your favorite style such as full contact, muay-thai, low kick? I actually love all fights equally as long as it is a good competitive fight as I have seen great fights under all rules and respect all fighters and rules.
I personally like to fight under K-1 rules the best as I love the short fights in a tournament setting using many techniques. I think it makes it very exciting. I also think the no holding rule makes for very clean professional fights. It has been proven to be a great concept which most people really enjoy.
I think that fighting under such rules fits my fighting style best as well as I like to fight aggressive using power techniques. I also think that these type if events force the fighters to fight harder early and make for better fights.
How could you describe your own manner of fighting?
I like to think that I am a smart fighter which can adapt very quickly to make a fighter fight the fight in which he does not want to fight. I believe that a fight for top pro fighters is 90% Mental as they will all be in good shape and all want to win. I have always thought that if you can make a guy fight your fight than you are on your way to a victory.
When did you start to go in for kickboxing? How did you come to this sport?
I was a troubled teen as I was always in trouble for street fighting and was very lucky to find a place to put this energy when I was 21 years old. I was very close to getting into much trouble with the law. I just happened to pass a full contact kung fu school while getting gas and saw this little dude fighting with all of these big guys and said to myself that is cool. I want to be able to kick like that. I went into his school and said that I wanted to fight. He said that every one says that and it would take a long time of hard training before fighting. I said I wanted to as soon as possible and he let me spar with some very good fighters and to make a long story short I did very well. He told me that he thought that I had the most potential of any one he has ever seen to become a world champ and that was the beginning of the rest of my life. That day I told myself that this is what I want to do with my self and stop getting in trouble. I was never in trouble with the law again. I am fully aware that kickboxing has saved my life and this is why I love to teach the youth. The little teacher sparring was my first instructor Sifu Moses Arocho.
Who was your first trainer?
Sifu Moses Arocho - Former Kickboxer and Kung Fu expert from Peurto Rico.
Who are your present trainer and manager?
I have had many trainers in my career and have had the chance to train with some great fighters.
Boxing Trainer : Kenny Davis / Brother of Howard Davis (Olympic Gold Medalist 1976 ) .
Kickboxing,Full contact Kung Fu : Sifu Moses Arocho
Wrestling coach: Tony Pereza ,National wrestling champion
Corner man: Keith Youngs/ Former World kickboxing Champ
I have also learned a lot from friends in the game which are legends such as:
Don "The Dragon" Wilson - Kickboxing legend, Movie Star
Oleg Taktarov - UFC Champion, Movie star
My brother John Bottone is my manager.
The place and date of birth:
I was born in the Bronx, NY.
Your hobbies and passions:
I really enjoy martial arts training so much that it is also my hobby to continue learning as much as I can about all fighting styles and hope to improve every day.
I also enjoy spending time with the children in my life such as my Neice Courtney 4 years old which I am very close to as well as my nephews Tylor 3, and Joseph 5. There is nothing better than spending time with these children.
Write anything you would like to add about yourself:
Kickboxing is the venue which has saved my life from going into a very dark place. I was the guy that everyone said would be dead or doing life in jail by the time I was 21 years old. I cherish all of the great experiences that I have had traveling the world to compete and coach Team USA and meeting all of the great friends which I have made along the way. I think that the best thing that I can be give back to this sport is giving kids a chance to have such great experiences. My school AFC Kickboxing in middle island, NY which I opened in 1996 has been a dream come true as I can help develop young kids in a positive way. I try to use my experience to help them achieve there goals which is something which words can not explain.
People sometimes ask me why I do so much in the sport such as fight ,promote events (Ring Of Fire Kickboxing), and coach fighters sometimes all in the same night. I tell them that when I started there was not much happening around here for the sport and I never want it to be like that again. It is important that the fighters have a venue to get the experience to get to a high level if they want to compete on an international level.
In recent years we had many problems promoting events in NY as the state made the sport illegal. With a lot of hard work we have begun to get back on track and plan to do many promotions in the future.
In my life time I have had a second chance and hope as leaders in this sport we can make it easier for kids in the future of this sport to get that second chance which I was given.
I know that there will be many great fighters fighting for the Diamond belt tile and I am honored to have this chance to not only become the undisputed champion among so many greats but also the chance to make a very big pay day which I can help to build the kind of training facility which I always dreamed of. I have always dreamed of building a live in training camp (Non- Profit) for troubled teens. This facility would also be available for international fighters to come train and hold seminars for kids as well as hold fights for the local kids at the camp as well.
The only disappointing thing about being a pro kickboxer for me has been that there has been no financial gain for myself and I was forced to go back to work full time as a manager in a major distribution center for the biggest electronics and appliance giant in the US. (PC Richard and son) the company has 49 super stores and is growing every day.
In having to go back to work it has given the chance to back to work in the industry which helped to build my school. Before I was a kickboxer My love was really the trucking industry. I guess this is why I was able to be very successful at an early age. Now I have come back to the industry which I have always loved and still get to be a part of the sport that we all love so much.
From the time in which I was thrown out of High school until my school was successful I had a trucking business which was successful and gave me the capital to open my school. After seven years of fighting professional ,teaching as well as traveling with team USA I was forced to go back to work full time as I could not maintain my school after the state would not allow me to fight or promote in my area for 2 years.
I thank the company that I work for PC Richard and son as they have agreed to support me in my goal of becoming the Diamond belt champion.
They have agreed to give me the time off that I will need to go to Moscow to be a part of this great event. it is very rare that such a large company would allow you take so much time for a sport and keep your job. I think it is because they are a family business 95 years in buissness which also loves sports as the owners drive race cars on a regular basis. They are aware that this is great opportunity for my in my career as Kickboxer and they are willing to make adjustments so I can try to reach my goals.
My best experience in martial arts was being a guest on the final episode of the Walker Texas Ranger show "Legends episode" with Chuck Norris. This show was a tribute to Kickboxing. They had many legends of the sport on this show such as Don "The Dragon" Wilson, Joe Lewis and Bill "Superfoot" Wallace. I will never forget this awesome experience.
I have saved the most important thing for last. Through out my almost my entire career there have been 2 people which have always been there to support me and with out this support there would be no school, promotions or fight career. This is my wife MaryAnn and my step son Kevin. They have supported me through all of the ups and downs, the injuries, and the financial stress which this has come with being a pro kickboxer. I am extremely grateful to have them at my side.
---
THE DIAMOND BELT CHAMPION
Active world professional kickboxing and
muay - thai champions' selection
Stage One
Ladies and gentlemen!
We start to introduce you the active world professional kickboxing and muay - thai champions – the applicants for participation in the most prestigious television super project «The Diamond Belt Champion» and the title of the overall world champion in the given weight class. For the first time in the history of the television and the world kickboxing 16 super fighters - the real stars! - will struggle for the most prestigious trophy which is a golden belt covered with diamonds valued at 150,000 USD and a prize reward of 300,000 USD.
The winner of «The Diamond Belt Champion» will no doubt be the strongest kickboxing and muay - thai champion on the planet in the weight classes of 66.8 – 72.2 kg. The fighter will have to pass various tests that are only under capacity of the real champion.
The given publication bears information character. We are to tell you about the champions who have been past the first selection stage of the super project which broadcasting will be carried out worldwide so the admirers while pending the beginnings of show could learn more about the applicants for participation in the most prestigious tournament in the world for today " The Diamond Belt Champion ".

And the Number One in our list is the world kickboxing champion in super middle weight
TOMMY "BEE" BOTTONE (USA)
Current World titles held:


• USKBA World Full contact Kickboxing Champion,
Won 1997

• WPKA World Full contact Kickboxing Champion,
Won 1997

• PKF World Full contact Kickboxing Champion Champion,
Won 2003

• UKC World (K-1 Style) 4 man tournament champion 170 lb limit Won 2004
Professional records
Total fights: 47, Wins 41 Losses: 5 , 1 Draw 21 by KO

The next fighter is the world kickboxing champion in super middle weight
MARK VOGEL (GERMANY)
Current World title held:
• World Champion IKBO, Super League Fighter
Mark is 23 years old (high 174 cm, weight 72 kg)
His trainer is Klaus Waschkewitz (Germany), IKBO President, his
Best Boxers in the past are Stefan Leko (World champion Muaythai
& Kickboxing, K-1 Japan many times), Kemal El Amrani
(World champion Muaythai, Super League fighter)
His manager is Branko v. Grimsic (Arjarn) (Germany/Yugoslavia),
AITMA Delegate
Professional records
Fights: 29
Won: 25
Lost: 4
KO: 13

The next issue will present you these champions as well as the other ones in details. We will tell you about their professional achievements, private life, about their hobbies and passions.
Welcome to «The Diamond Belt Champion» show!
WELCOME TO THE DIAMOND BELT CHAMPION PROJECT
The Diamond Belt Champion project is introduced by the International Kickboxing Association IKAS www.ikaskickboxing.com and Production Center 'IVAN' (Russia).
'The Diamond Belt Champion' invites 16 active world professional kickboxing and muay - thai champions from any world federations. These 16 fighters will struggle for the most prestigious trophy in the history of the world kickboxing which is a golden belt covered with diamonds valued at 150,000 USD and a prize reward of 300,000 USD.
There are many world federations with an active champion that holds a world champion belt. Each praises its own champion! Besides, there are many tournaments such as 'Best of the Best', 'The Golden Ring', etc. They invite fighters even without world champions' titles, and still the organizers claim their sportsmen best on the planet.
Hence we propose to all active champions of the world to demonstrate their strength and win the most precious and honored belt in the history of the world kickboxing. The one to hold this belt will no doubt be the strongest champion on the planet in a given weight class. The fighter will have to pass various tests that are only under capacity of the real champion.
This project will vary greatly from similar events. The show organizers chose to combine this prestigious sport contest with the most popular television format of 'reality show'. In the course of 6 week television show we are eager to show a tough way any real sportsman has to go to take victory.
Financial terms: