Tommy "Bee" Bottone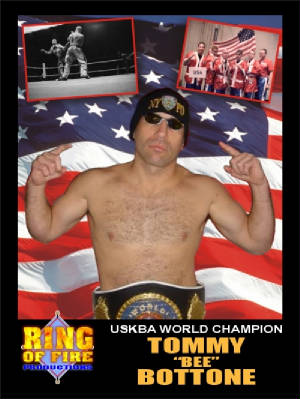 So what do you do if you are a tough and talented top ranked kick boxing contender who desperately wants a title shot, but you are not getting enough publicity to attract the necessary attention? Well if you are Tommy "Bee" Bottone, the current holder of six World kickboxing middleweight championships, you build the event and the fans and promoters will come. That is exactly what Tommy did when he and his brother John, a NYPD Detective, created the phenomenally popular New York Ring of Fire fighting event in 1998.
From his school in Middle Island, New York, where Tommy, a 34-year-old native of the Bronx, is presently in training to defend his USKBA World Super Middleweight Championship against Tony TNT Ventura, he recalls how the Ring of Fire came to be, I was calling everybody, but no-one was calling back, until finally someone told me that I should throw my own Kick boxing show to prove that I had a following.
Now the Middle Island / Yaphank area is not exactly the hotbed of east coast kickboxing. According to Tommy, the only possible entertainment venues for a fight show in his little country town were the deli, the bar, the pizza parlor or the firehouse. Tommy chose the Yaphank firehouse and then started promoting himself and his show.
Just as he was starting to think of ways to promote his show, Tommy got knocked down with one of lifes most brutal uppercuts when he found out that his childhood friend, Cindy Quinn a school teacher, had been murdered. She was the sweetest person in the world, everybody loved her, said Tommy as fondly described his friend who was survived by her two children and her husband Brian, who is one of his brother John's best friends. It is just unbelievable that something like this could happen in a town like this where everybody literally knows everybody.
Tommy and John decided to dedicate the show to Cindy and to give the money they raised to her family. They came to see Tommy and to honor Cindy, with more than 1,000 people filling the old firehouse. As a result Tommy and John promoted Ring of Fire 2 and in the crowd that night was well known east coast kick boxing promoter Louis Leglia, who was impressed enough to offer Tommy a title shot on TV soon after that event. Tommy Won a 10 round decision against Tony " TNT "Ventura, and has never relinquished the championship belt since, defending it successfully 9 times.
However, Tommy was already well known as fighter in Middle Island, but not for the kind of fighting that he is proud of today. Tommy was fighting on the streets, a self-described hoodlum who was constantly in and out of trouble with the law.
I gave my parents so many sleepless nights, remembers a remorseful
Tommy. My parents had one good son that was a policeman, and one bad one who was being chased by the police. In fact, the night before he walked into his first martial arts dojo Tommy was in Trouble for fighting.
Tommy remembers vividly his introduction to the martial arts. As I was putting gas in my car I looked across the street and I see this little guy beating up all these big guys through the window of this kung - Fu / Chinese Boxing school, recalls Tommy. Well I had to get a closer look at this, so I went over to the school and watched for a while, and when there was a break I went up to the little guy and told him that I wanted to come and fight in his school. The little guy, who turned out to be kung fu master Sifu Moses Arocho, told Tommy that before he could start fighting he would have to learn this ancient Chinese style. To which Tommy bluntly responded," I dont want to do no dancing",I Just want to fight !
Unable to discourage or dissuade the confident Tommy, Sifu Arocho invited him to come back the next day and test his street techniques against some world-class martial artists who were visiting from South America. Tommy came and he conquered with just his raw unsophisticated skills and tremendous heart. I took on everybody and showed them what I could do, said Tommy. A few weeks later, Sifu Arocho decided to put his prize pupil to the test against a much more experienced martial artist at an exhibition. The fight ended quickly after Tommy dislocated the other fighters hip ( Leaving in an ambulance), and a Local hero was born.
When Tommy started fighting he had to overcome the tremendous disadvantage of being unable to kick. When I was born both of my feet turned in so they had to break both of my legs, then when I was six the problem returned so they had to break both of my legs again., recalls Tommy. I can still remember having both legs in casts and my Dad having to carry me up several flights of stairs to our Bronx apartment. But Tommys leg troubles were not over. When I was 14-yearold, I broke one of legs again in a motorcycle accident, and then I broke the other one the next year in a street fight. Amazing, through his remarkable dedication and discipline Tommy is now feared for his great kicking ability.
For as long as he can remember Tommy has always been a fighter. I just love to fight, said the surprisingly funny and easy going Tommy. My favorite boxers were Muhammad Ali and Sugar Ray Leonard because they were so fast and had such command of the ring. My martial art heroes are Chuck Norris, WorldBlackBelts First Founding Member, Bob Wall, the President and CEO of WorldBlackBelt, and Don Wilson, WorldBlackBelt Founding Member. These guys are just phenomenal fighters, but they are still so humble and kind.
A few months ago, one of Tommys dreams became a reality when he appeared on the now famous "Legends" episode of Norris Walker, Texas Ranger television show along with Bob Wall and WorldBlackBelt Founding Members Howard Jackson and Cung Le. It was such an honor, said Tommy. At first I was going to be one of the fighters on Chucks team, but later the producers called to ask me if I would be willing to be one of the opponents who gets beat up, and I told them that I would be willing to be the water-boy if they would have me.
TOMMY BEE and Don "The Dragon" Wilson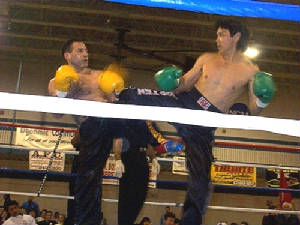 Charity Fight NY
When he is not going through his grueling training routine, Tommy is teaching classes at his successful fighting school in Middle Island. What I love most is teaching children and women because frankly they listen better than the average tough guy who walks in my doors. Not wanting to get stuck in one style, the multi-talented Tommy offers instruction in all fighting styles, including kickboxing,Muay-Thai,Sanshou,MMA,Boxing and Self Defense. Tommy takes great pride in the fact that 5 of his students, Ken Hewski, Dan Lucas,Tarek Rached,Lennox Chance and Keith Youngs have already become
ISKA / USKBA / IKC/ UKC / Top kick Pro World champions. Says Tommy of Youngs, a 23-year-old southpaw, I had become his punching bag while getting him ready for his fights.
World Champ Kieth "Young Blood" Youngs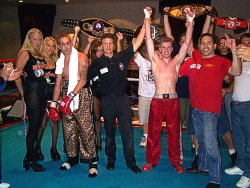 So respected is Tommy as a trainer, the USKBA named him the coach
of their national team that went to fight in the Ukraine and in Greece. It is interesting, but I never get nervous when I am fighting, but I get really nervous when I watch one of my students fight, said Tommy.
Tommy has certainly come along ways since his street fighting days on Long Island , and his only regret is that his father Tommy Sr. never got to see him realize the heights that he has, passing away a few months before his first Pro bout. However, Tommy takes comfort in knowing that his Dad who was a Law Enforcement officer is looking down from above and taking great pride in his sons prolific accomplishments. What Tommy looks forward to is helping others, remembering that the martial arts saved my life, and now together with WorldBlackBelt we can save some others.
Since this article was published in 2001 Tommy has gone on to win the rematch with Tony "TNT" Ventura which was his 10 th World title defense as well as win K-1 style tournaments ,Tommy's school AFC Kickboxing / MMA has trained 13 World champions and Tommy coached Team USA to China , Ukraine, Greece, England and Canada.Tommy has also been invited to speak to children in many schools about his experiences..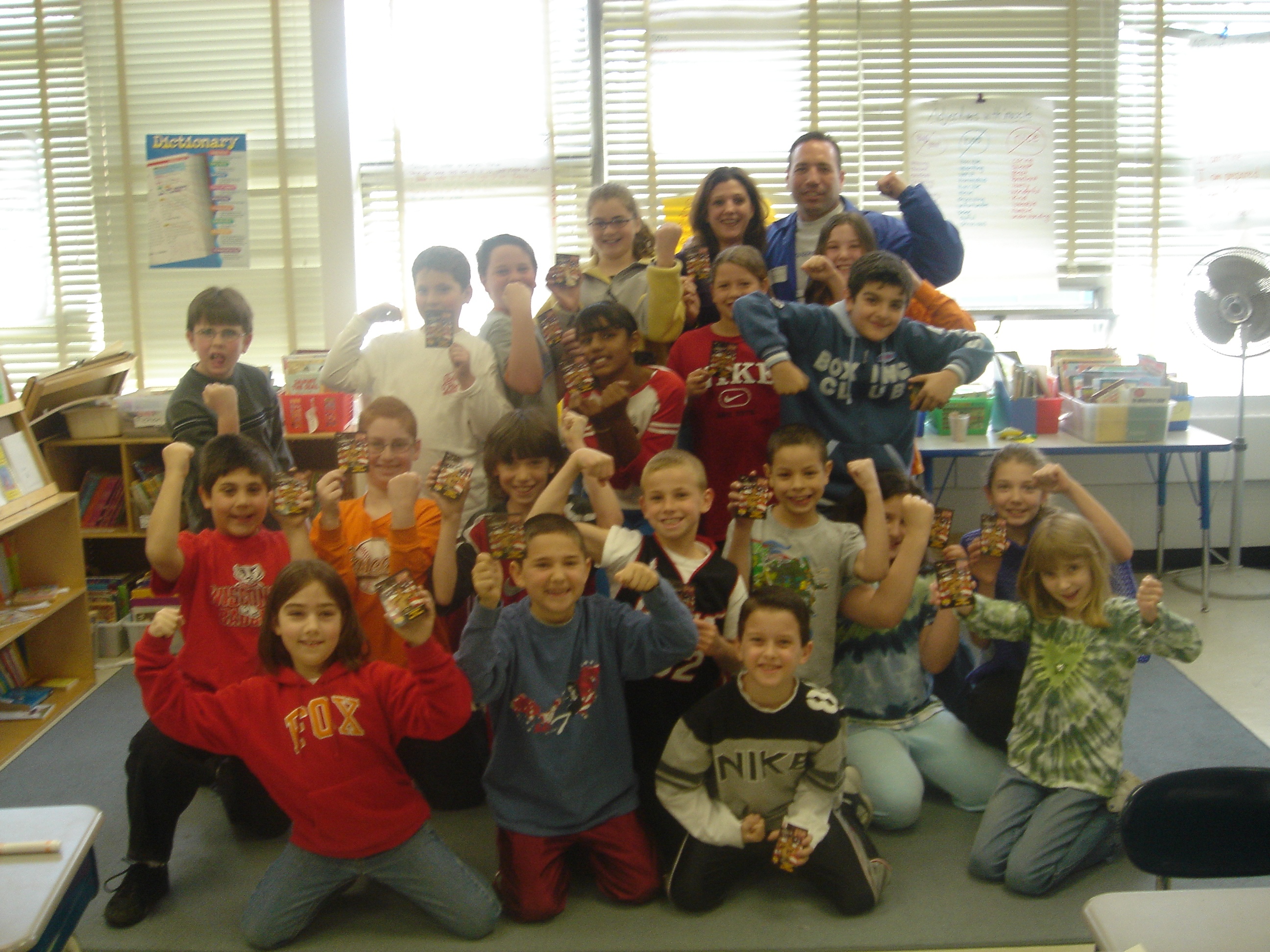 Students At Pasadena , Elementary school with TOMMY "BEE"

Tommy has also gone on to follow in his family tradition and enter into Law enforcement by becoming a Correction officer in 2007 .

Tommy's brother John hands Him Badge at Graduation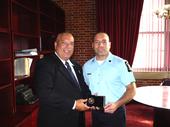 NYS Training Academy , Albany NY 2007
Keith Youngs,Joey R.Tommy "BEE" and ,John Bottone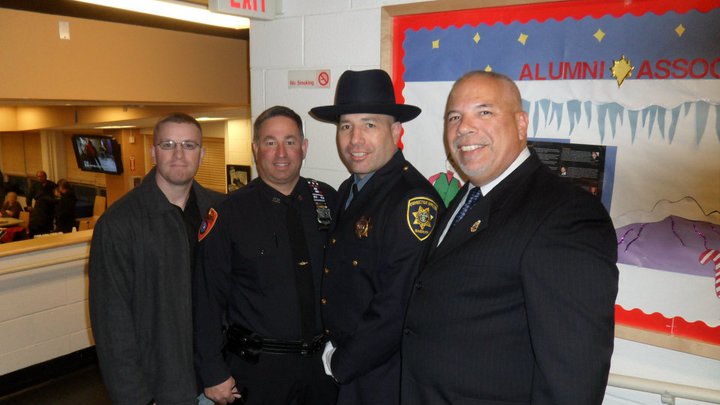 At SCSO Graduation 2010
Tommy would Like to Thank his coaches since his Childhood :
Longwood Wrestling program :
Teachers Paul Infranco / Tony Peraza
Atlantic Boxing Club : Coach Howell
Martial Arts / Kickboxing / Sanshou : Sifu Moses Arocho
Boxing Coach / Head Coach - Kenny Davis
I would also like to thank my friends and mentors who I have been lucky enough to train with such as :
Kickboxing - Don " The Dragon" Wilson -
Muay-Thai - Sandy Holt
Russian Sambo - Gene Fabrikante
UFC Champion - Oleg Taktarov
None of it would have been possible without my Wife MaryAnn,My Brother John Bottone , Keith Youngs, and Adam Czachor who where always in my corner since before we created AFC Kickboxing / MMA in 1996
To find out more out Tommy, visit his official website at Tommy "Bee" Bottone

To view past honoree click here.
By J.P. Koenig
jpk@worldblackbelt.com.
TOMMY "BEE " BOTTONE DOES CLASS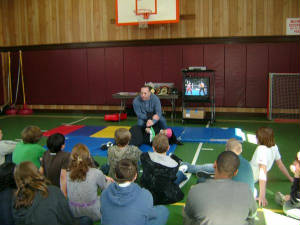 at Tuckahoe middle school in Southampton NY
World Champ Tommy "BEE" Bottone Seaks to Kids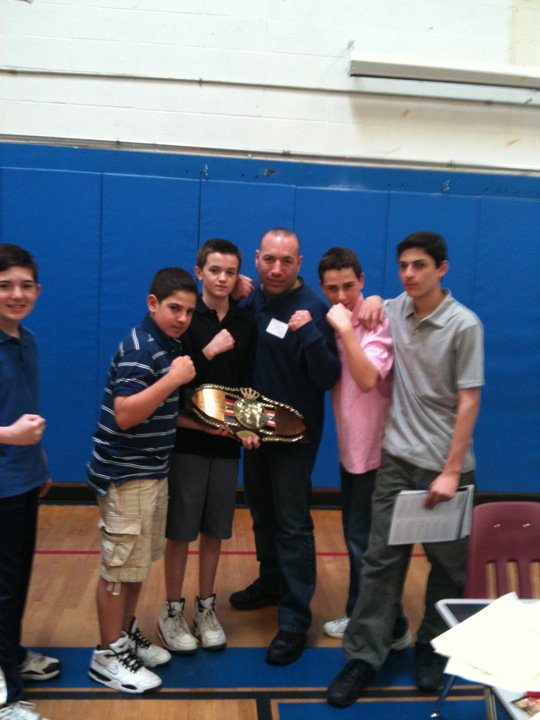 At Old bethpage Middle school LI,NY April14th 2011
TOMMY "BEE" Bottone with John Gilliam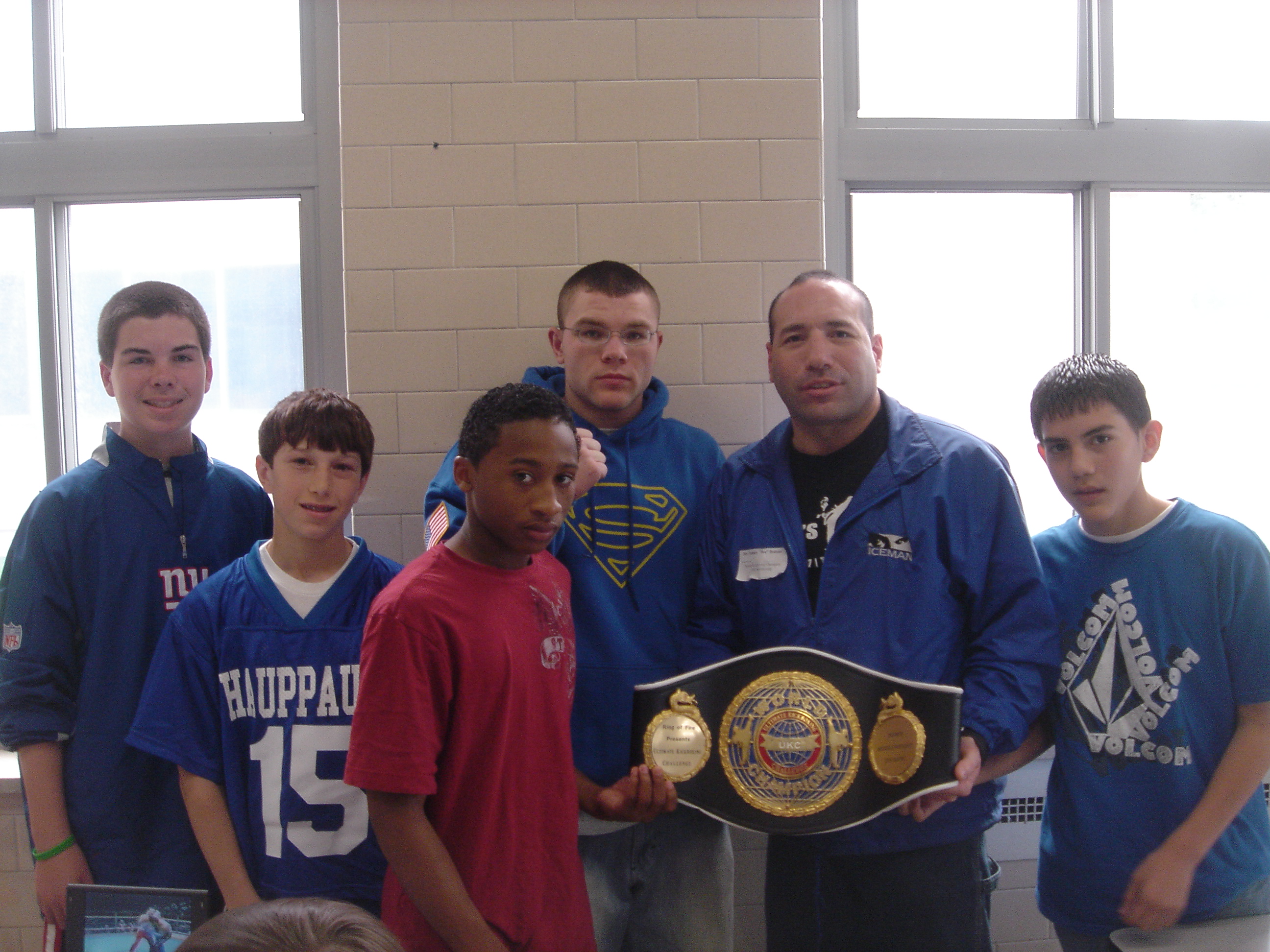 Speaking to Kids at HauppagueJunior High school
Tommy "Speaks to Kids - Old bethpage Middle School